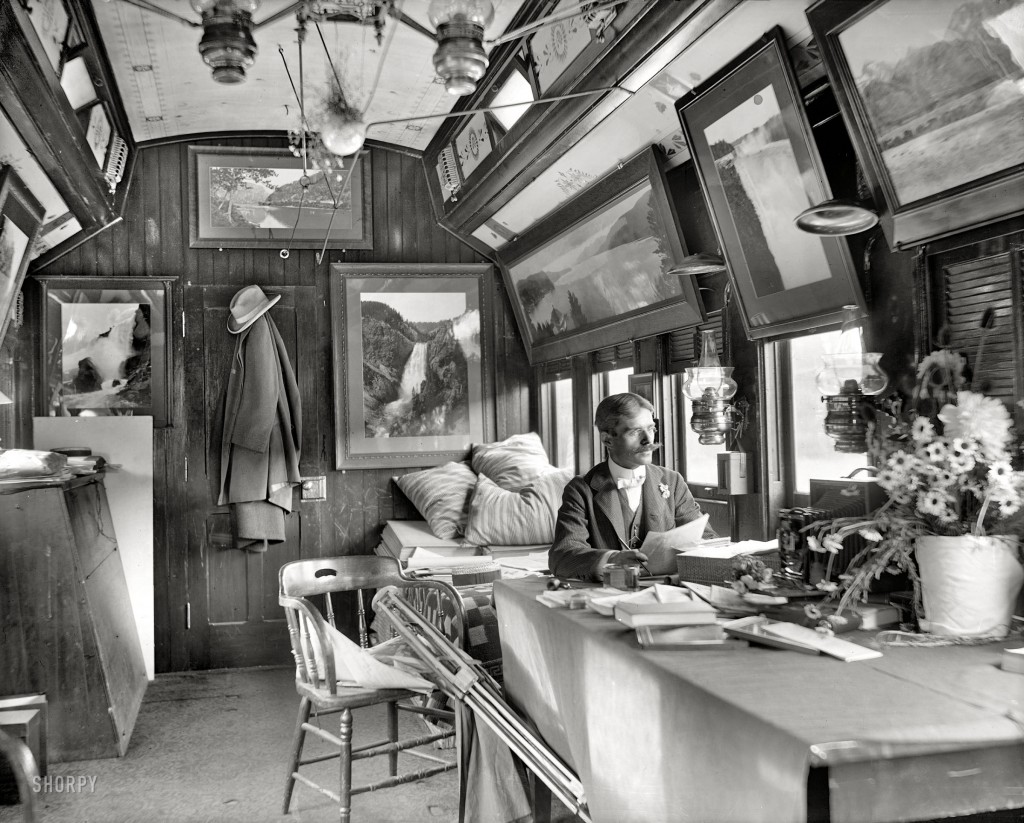 Thanks to the Shorpy Photo Archive for publishing this image and bringing Mr. Jackson's exploits to our attention.
It is indeed rare to come across a human specimen who experienced as much as William Henry Jackson (April 4, 1843 – June 30, 1942) did in his lifetime. Even when we are researching only individuals of the moustached variety, where excellence and sportsmanship is expected, Mr. Jackson is a very distinctive character. Simply gaze upon the above image to confirm this statement as fact. The detail is exquisite, and I suggest that you click through to the view the image in full resolution. Admire Mr. Jackson's fine railroad car, his work hung upon the walls, his 8×10 view camera on his desk, and most of all, his well-groomed moustache. Then come back and read the rest of this article.
A veteran of the Civil War and the Battle of Gettysburg, he boarded a west bound train shortly after his discharge. Reaching the end of the line in Omaha, he obtained a job as a bullwhacker. This job, dear reader, is performed exactly as described. It was the first in a series of notable occupations that Mr. Jackson held as a civilian.
After traveling as far as Utah, Jackson eventually settled back in Omaha and began a photography business with his brother. During this time, he bagan to produce distinctive and historic images of the local Indian tribes.
His career took an interesting turn in 1870, when he began to work with the US Geological Survey. Our government was obviously impressed with his work, as a year later he was the official photographer of the USGS. This job afforded him the opportunity to travel the west, and included his influential work photographing what was to soon become Yellowstone National Park.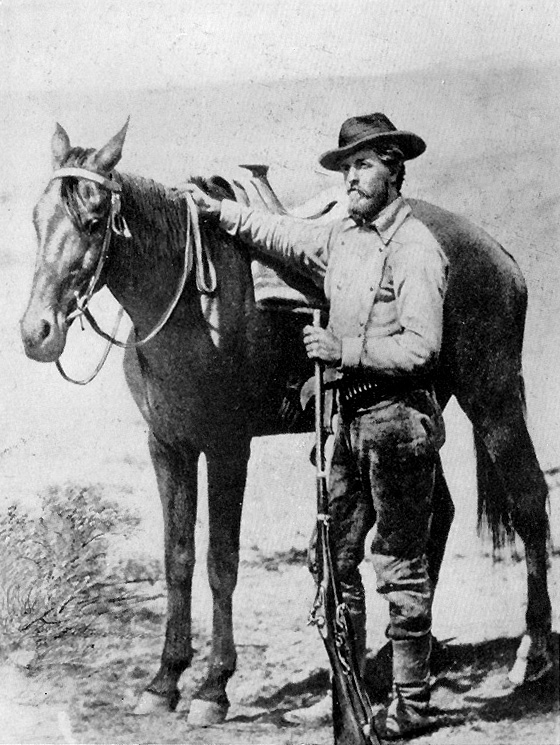 It is worth noting the difficulty involved in creating photos at this point in history. You young whippersnappers with your digital so-called 'cameras!' Why, it's hardly even the same sport. Jackson had a team of 5 to 7 men and considerable pack mules helping him as he worked with cameras up to 18×22 in film size. The film itself was wet collodion plates – glass negatives coated by hand in light sensitive chemistry.
Jackson went on to establish another photo studio in Denver, and was commissioned by corporations and government agencies to produce many historic images. He toured Europe, Africa, India, Japan, and Russia in 1894, producing images for Harper's Weekly magazine in conjunction with his publishing company, Detroit Publishing.
Although well past the age commonly considered 'retirement' by clean-shaven mortals, Jackson moved to Washington DC in 1924 in order to create murals for the Department of the Interior. He also acted as an advisor on the film 'Gone With The Wind.' In 1940, at the ripe age of 97, he exhibited his work in the museum of the US Department of the Interior. The following is an image from about the same era. He is shown photographing his friend Henry Ford with a Leica camera.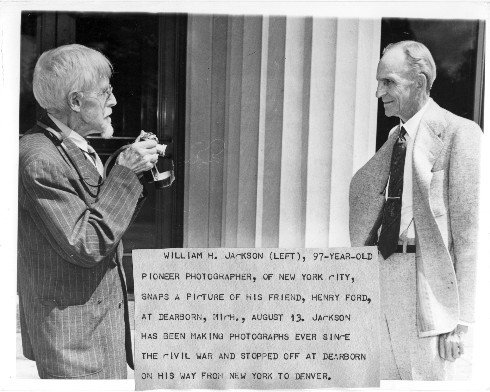 Jackson died at the age of 99 and was buried in Arlington National Cemetery – one of the last surviving Civil War veterans. Following his death, the SS William H Jackson steamship was named for him. But his most lasting memorial remains Mount Jackson in Yellowstone National Park.
His long and adventuresome life has many details which cannot be covered in this short article. However, in closing I present a radio interview from 1941 with Mr. Jackson, in which he candidly discusses his life's work.

William Henry Jackson Interview, 1941. Audio from the excellent Talking History project.