Some time ago we received an e-mail from one Charlotte Kieltyka, an amateur photo historian/researcher with special interest in late 19th century to early 20th century American Landscape Photographers, most notably –  William Henry Jackson, Edward Muybridge, George Fiske, and Arthur Pillsbury.
And we stand corrected…there has been an error in our reporting. The image below, which we ran here, is indeed NOT William Henry Jackson (although he did sport facial hair)…but one of his assistants (possibly his younger brother). The fact that this got by our pool of highly trained secretaries is amazing, but can easily be attributed to the daily distraction of upper lip facial hair in their presence.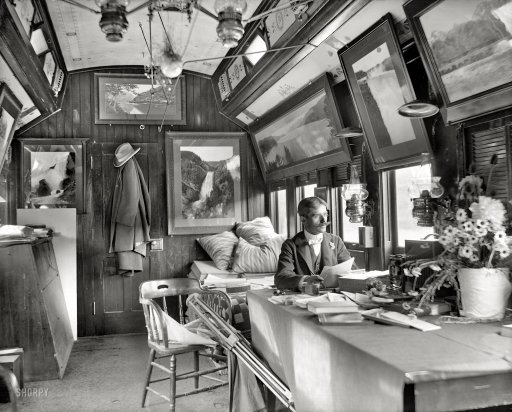 From Ms Kieltyka's e-mail: For further proof consider this photograph of the DPC Special R.R. car …… BUT with both William Henry Jackson (right) AND this same assistant next to him in the same photo. Same glasses; same pipe; and of course …… sporting the same GREAT moustache. …….. Because this assistant looks so much like the younger WHJ we are familiar with – I strongly suspect it is his younger brother Fred, who began working with WHJ in 1885. Also – here William Henry Jackson is more "age-appropriate" for being 59 years old in 1902. WHJ still looks great for his age – but not "age-defying" great.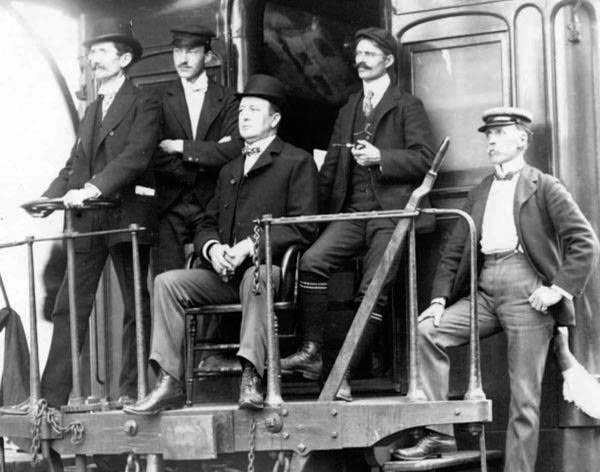 Many thanks to loyal readers such as Ms. Kieltyka for their attention to detail and historical accuracy.